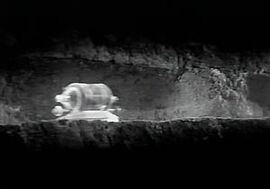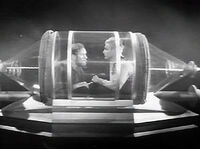 Overview
A mode of transportation built and used by the Clay People on the planet Mars. It is a high-speed shuttle capable of carrying 2 passengers at a time, and runs along miles of underground tunnel extending from the Valley of Desolation to the palace of Queen Azura.
Trivia
A very similar mode of transport was seen in the 1939 serial "Buck Rogers", also starring Buster Crabbe.
Ad blocker interference detected!
Wikia is a free-to-use site that makes money from advertising. We have a modified experience for viewers using ad blockers

Wikia is not accessible if you've made further modifications. Remove the custom ad blocker rule(s) and the page will load as expected.