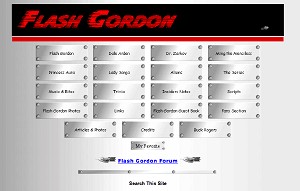 Tony LoBue's Flash Gordon Website is a long-running fansite that was founded in February, 2001. The site focuses on the 1930s serials starring Buster Crabbe.
A loving and detailed tribute, Tony's website features sections on the six main characters, rare photographs, scans from vintage magazines, and insider trivia. The site also includes a forum for Flash Gordon fans.
Link
Ad blocker interference detected!
Wikia is a free-to-use site that makes money from advertising. We have a modified experience for viewers using ad blockers

Wikia is not accessible if you've made further modifications. Remove the custom ad blocker rule(s) and the page will load as expected.