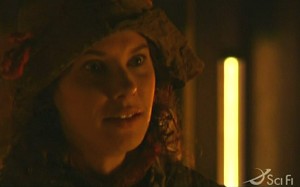 Tiffany Lyndall-Knight played Sonja, the ice smuggler's wife in Template:102.
Lyndall-Knight played the recurring role of the Hybrid on Battlestar Galactica. She's also appeared on many other science-fiction shows, including Stargate SG-1, Blade, Supernatural, Dead Like Me, The Twilight Zone, Smallville, Dark Angel, The Outer Limits, and First Wave.
External links
Ad blocker interference detected!
Wikia is a free-to-use site that makes money from advertising. We have a modified experience for viewers using ad blockers

Wikia is not accessible if you've made further modifications. Remove the custom ad blocker rule(s) and the page will load as expected.