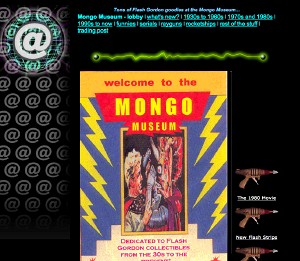 The Mongo Museum is an online gallery of Flash Gordon memorabilia, collecting items from the 1930s through today.
The site's main sections are "Rayguns" and "Rocketships", and the collection also includes Flash Gordon buttons, wallets, kites, Silly Putty, ViewMaster reels, and Halloween costumes.
The museum was created in 1999 as an homage to the Mego Museum (http://www.megomuseum.com), which also features a Flash Gordon exhibit for Mego's 9-inch Flash Gordon action figures released in 1978.
The museum's curator was interviewed for the (brief) Flash section of the Dark Horse book "Blast Off," dedicated to space toys from 1927 to 1957.
The curator also wishes to express that this site is expressly a work-in-progress and begs the patience of its visitors. :) Any contributions, whether they be to share a favorite Flash memory, or to contribute a picture, are greatly appreciated.
External links
Ad blocker interference detected!
Wikia is a free-to-use site that makes money from advertising. We have a modified experience for viewers using ad blockers

Wikia is not accessible if you've made further modifications. Remove the custom ad blocker rule(s) and the page will load as expected.