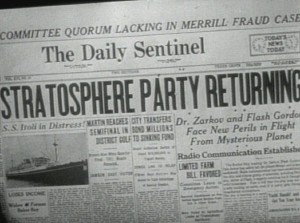 Overview
The Daily Sentinel is a newspaper that reports on Flash Gordon, Dale Arden, and Dr. Hans Zarkov's return to Earth in chapter 13 of the Flash Gordon serial.
The Daily Sentinel has two sections, and costs three cents a copy. Its motto is "TODAY'S NEWS TODAY".
Lead story
STRATOSPHERE PARTY RETURNING
Dr. Zarkov and Flash Gordon
Face New Perils in Flight
From Mysterious Planet
Radio Communication Established
Other stories
Committee Quorum Lacking in Merrill Fraud Case
S.S. Itoli in Distress!
Martin Reaches Semifinal in District Golf
City Transfers Bond Millions to Sinking Fund
Limited Farm Bill Favored
Ad blocker interference detected!
Wikia is a free-to-use site that makes money from advertising. We have a modified experience for viewers using ad blockers

Wikia is not accessible if you've made further modifications. Remove the custom ad blocker rule(s) and the page will load as expected.