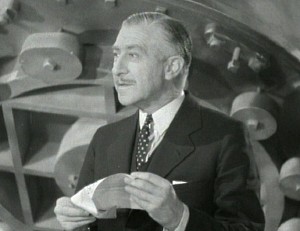 Richard Tucker (1884-1942) played the distinguished astronomer Lawrence Gordon in the 1936 Flash Gordon serial.
Tucker performed in over 200 films and shorts in his long cinema career, beginning with silent shorts such asNo Cooking Allowed (1911). Silent features includedVanity Fair (1915, as George Osborne), Don't Neglect Your Wife (1921), and Is Divorce a Failure? (1923). In 1927, Tucker appeared in the first "talkie" feature The Jazz Singer (although much of the footage remained silent), in the prominent supporting role of empresario Harry Lee.
Tucker transitioned smoothly into the sound era, remaining an active character player, usually in professional roles (attorneys, doctors, bankers, and socially prominent types). In The Black Camel (1931), the earliest surviving Charlie Chan film, he played Wilkie Ballou, one of the suspects. He played the director in James Cagney's Something to Sing About (1937). Prior to Flash Gordon, Tucker's other serial credits, in similar authority figure roles, included King of the Kongo (1929, with Boris Karloff) and Shadow of the Eagle (1932, with a young John Wayne).
Coincidentally, Tucker's namesake, Richard Hawley Tucker, was an actual distinguished astronomer, and has a lunar crater named for him.