Rankol is Ming's servant on Flash Gordon. He has many duties, but chief amongst them is overseeing developments in rift technology. Being he is a new character never before heard of until the Sci-Fi Channel series and because he is Ming's right hand man, Rankol could have been inspired by such characters as Darth Vader of Star Wars, who was in part inspired by Ming himself.
Augmentation
Rankol has had some mechanical augmentation. He glides around smoothly on a raised, wheeled platform. There's also a mechanism in his head that seems to be implanted into his brain.
The nature of Rankol's augmentation hasn't been revealed on the show yet, although it seems not to be voluntary. In Template:104, he reminds Ming, "Pain is my constant companion, as you are well aware."
Appearances
Gallery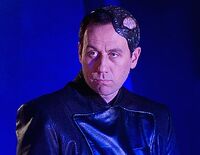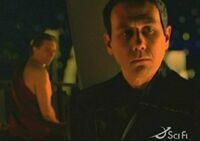 Ad blocker interference detected!
Wikia is a free-to-use site that makes money from advertising. We have a modified experience for viewers using ad blockers

Wikia is not accessible if you've made further modifications. Remove the custom ad blocker rule(s) and the page will load as expected.