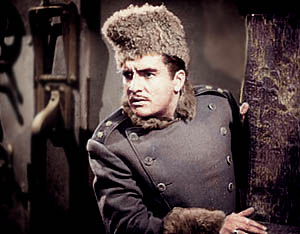 Comic Strip
Prince Ronal is a cousin of Prince Barin who is introduced to Flash Gordon in the November 13th 1938 installment of the comic strip. A man of noble integrity and great bravery, he is instantly attracted to Dale Arden but keeps his feelings to himself, although Princess Aura soon realizes the truth. Unlike the majority of characters in the early years of the comic strip whose unrequited desires fuel selfish acts of jealousy, Ronal accepts that Dale will never be his and suffers in silence. He helps to prevent the abduction of Barin's son, Prince Alan, by Ming's agents and subsequently joins Flash and his friends when they leave Arboria to explore Mongo's frozen north in Frigia. He and Dale are captured by the giants and on more than one occasion Ronal bravely takes on their leader, Brukka, in a bid to protect Dale. On a later occasion, Ronal saves Flash from the traitor Captain Lupi's attempt to kill him, risking his own death in the process.
When Queen Fria tricks Dale into giving Flash up, Ronal could easily have used the situation to his own advantage, especially as the lovesick Dale is showing signs of turning to him. However, Ronal unselfishly tries to persuade Flash not to go away. Flash later realizes just how good a friend Ronal has been to him, and lays the groundwork for Ronal to marry Queen Fria.
Film Serial
A slightly modified version of Ronal appeared in the 1940 serial Flash Gordon Conquers the Universe, played by Donald Curtis (who, despite having a significant role in the serial, gets no credit on screen). In the serial Ronal is merely a captain in Prince Barin's army in the kingdom of Arboria. He meets Flash Gordon when the Earthman travels to Mongo in an attempt to save Earth from the threat of the Purple Death, which is being caused by Ming's Death Dust. The suggestion is, however, that Ronal met Flash during the latter's previous visit to the planet Mongo, although no such meeting is depicted in the earlier film serial.
Along with Roka and Turan, Ronal forms part of Barin's fighting force and is frequently called upon to serve in various high-risk missions in the effort to topple Ming from power. Unlike his comic strip counterpart, there is no suggestion that Ronal is in love with Dale Arden, nor does he have much involvement with Queen Fria.
Ad blocker interference detected!
Wikia is a free-to-use site that makes money from advertising. We have a modified experience for viewers using ad blockers

Wikia is not accessible if you've made further modifications. Remove the custom ad blocker rule(s) and the page will load as expected.