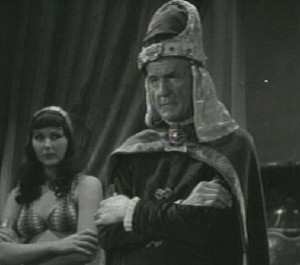 Lon Poff (1870-1952) played the High Priest in the first three chapters of the 1936 Flash Gordon serial (with Theodore Lorch taking over in the later chapters).
Poff played roles in almost a hundred films and serials, beginning in the silent era, and often portrayed clergyman, morticians, and authority figures (such as Judge Thatcher in the 1930 Tom Sawyer with Jackie Coogan). In Douglas Fairbanks' silent swashbucklers The Three Musketeers (1920) and The Iron Mask (1929), he played Father Joseph, the queen's confessor and associate of Cardinal Richelieu.
His other credits, often in uncredited bits, include The Light of the Western Stars (1918), Darwin Was Right (1924), The Laurel-Hardy Murder Case (1930) and Sullivan's Travels (1941).