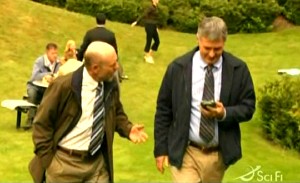 Lincoln Park is an urban park located in the Capitol Hill neighborhood of Washington, D.C., situated directly east of the Capitol Building. The park features two important sculptures; the Emancipation Memorial, the first of several memorials in Washington remembering Abraham Lincoln, and the Mary McLeod Bethune Memorial.
In Template:104, Dale tells Flash that Dr. Martin Landry's body was found in Lincoln Park. In fact, the sprawling green park seen in the episode, complete with picnic tables and Frisbee players, looks nothing like the actual Lincoln Park, which is really more of a city plaza.
External Links
Ad blocker interference detected!
Wikia is a free-to-use site that makes money from advertising. We have a modified experience for viewers using ad blockers

Wikia is not accessible if you've made further modifications. Remove the custom ad blocker rule(s) and the page will load as expected.