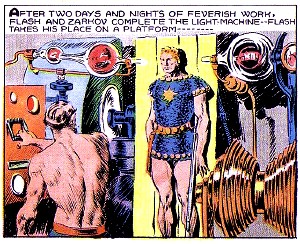 Overview
The light machine is a machine invented by Dr. Hans Zarkov that turns people invisible. The invisibility wears off after a while.
Comic strip
Zarkov turns Flash Gordon invisible, turning him into "the Avenging Shadow" so that he can fight Queen Azura. ("The Witch Queen of Mongo")
Serial
In the serial, Zarkov makes Flash invisible so that he can fight Ming the Merciless. ("Chapter 111: In the Claws of the Tigron")
Gallery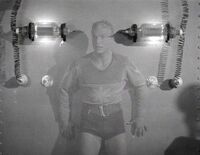 Ad blocker interference detected!
Wikia is a free-to-use site that makes money from advertising. We have a modified experience for viewers using ad blockers

Wikia is not accessible if you've made further modifications. Remove the custom ad blocker rule(s) and the page will load as expected.