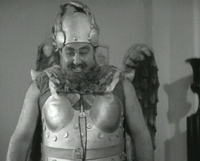 Biography
John Lipson (1901-1947), also known as Jack "Tiny" Lipson, played King Vultan in the 1936 movie serial, Flash Gordon.
Lipson played small roles in many comedy films, including Laurel and Hardy's Babes in Toyland (1934), the Three Stooges' short Three Little Pigskins (1934), the Marx Brothers' A Night at the Opera (1935, as the burly engineer's assistant in the famous stateroom scene), and W.C. Fields' Never Give a Sucker an Even Break (1941).
Ad blocker interference detected!
Wikia is a free-to-use site that makes money from advertising. We have a modified experience for viewers using ad blockers

Wikia is not accessible if you've made further modifications. Remove the custom ad blocker rule(s) and the page will load as expected.