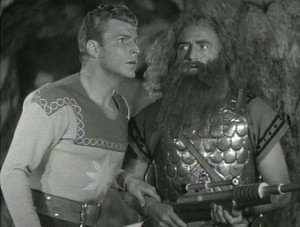 James Pierce played Prince Thun in the 1936 Flash Gordon serial.
Big Jim Pierce, as he was known to family and friends, was an All-American center on the Indiana Hoosiers football team. Following his graduation in 1921, he coached high school football in Arizona, and began acting in his spare time. After he was cast in the 1923 production of The Deerslayer, he remained in California and coached football at Glendale High School.
Pierce's life changed when he attended a party given by Edgar Rice Burroughs and his daughter Joan. Burroughs, the creator and author of the Tarzan books, immediately wanted Pierce to star in the next Tarzan movie, the 1927 film Tarzan and the Golden Lion.
Joan Burroughs and James Pierce married in 1928. From 1932 to 1934, James and Joan Pierce were the voices of Tarzan and Jane on national radio. They remained married until Joan's death. Both are buried in Shelbyville, Indiana, and their tombstones bear the inscriptions Tarzan and Jane.