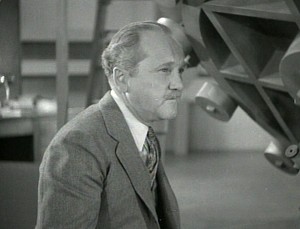 George Cleveland (1885-1957) played Professor Hensley, a colleague of Lawrence Gordon, in the 1936 Flash Gordon serial.
Cleveland had a long acting career, spanning film, stage, television, vaudeville and radio. He was often cast as fussy judges, eminent professors, hotel managers, grandfathers, and old prospectors. He is perhaps best remembered as "Gramps" in the 1954 Lassie series. Cleveland appeared in over 150 films and serials, including Keeper of the Bees (1935), Revolt of the Zombies (1936), The Lone Ranger (1938), The Devil and Daniel Webster (1941) and Fireman Save My Child (1954).
Ad blocker interference detected!
Wikia is a free-to-use site that makes money from advertising. We have a modified experience for viewers using ad blockers

Wikia is not accessible if you've made further modifications. Remove the custom ad blocker rule(s) and the page will load as expected.