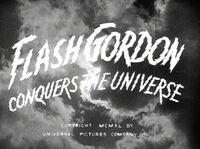 Overview
Flash Gordon Conquers the Universe is the third Universal movie serial, produced in 1940 as a sequel to Flash Gordon (1936) and Flash Gordon's Trip to Mars (1938).
Chapters
Cast
Dale Arden : Carol Hughes
Sonja : Anne Gwynne
Dr. Hans Zarkov : Frank Shannon
Lawrence Gordon: John Hamilton
Professor Froman : Herbert Rawlinson
Professor Arden : Tom Chatterton
Princess Aura : Shirley Deane
Roka : Lee Powell
Prince Barin : Roland Drew
Officer Torch : Don Rowan
Thong : Victor Zimmerman
Turan : Edgar Edwards
General Lupi : Ben Taggart
Karm : Michael Mark
Janda : Earl Dwire
Keedish : Harry C. Bradley
Count Korro : Sigurd Nilssen
Captain Ronal : Donald Curtis
Verna : Mimi Taylor
Druk : Byron Foulger
Captain Sudan : William Royle
Queen Fria : Luli Deste
King of the Rock People: Chief Yowlachie
King's Son: Ray Mala
Grenda : Clarice Sherry
Dancer : Carmen D'Antonio
Olga : Jeanne Kelly
Guard : Charles Sherlock
Ming's soldier/adjutant/Arborian sentry: Roy Barcroft
Ming's soldier/adjutant: Lane Chandler
Nobleman : Allan Cavan
Giant : Jack Roper
Others : Paul Reed, Harold Daniels, Edward Payson, Reed Howes, Jack Gardner, Joey Ray, Paul Douglas, Ernie Adams, Edward Mortimer, Robert Blair, Bill Hunter, Charles Waldron, Jr., Pat Gleason, Frank Hagney, John Elliott
Credits
Associate producer: Henry MacRae
Directors: Ford Beebe, Ray Taylor
Screenplay: George H. Plympton, Basil Dickey, Barry Shipman
Art director: Harold MacArthur
See also
External links
Ad blocker interference detected!
Wikia is a free-to-use site that makes money from advertising. We have a modified experience for viewers using ad blockers

Wikia is not accessible if you've made further modifications. Remove the custom ad blocker rule(s) and the page will load as expected.