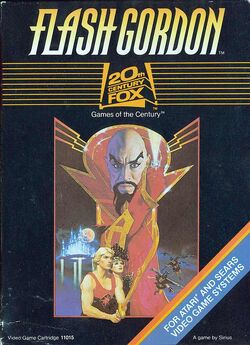 Game Name: Flash Gordon
Developer: Sirius Software
Publisher: 20th Century Fox
Game System: Atari 2600
Year Of Release: 1983
Genre: Scrolling shoot-em-up
Number Of Players: 1
Flash Gordon was a videogame released for the Atari 2600 by 20th Century Fox. Despite bearing the imagery on the label associated with the 1980 Flash Gordon movie, the game itself has little to do with the movie, but is actually an adaptation of Sirius Software's Spider City game for home computer systems of the early 1980s.
Gameplay
You are Flash Gordon. Many spacemen have entered Spider City but never returned. Your job, Flash, is twofold. Rescue any spacemen you find in the tunnels of Spider City and destroy all the hatching pods.
The lower part of the screen is a map. You are the horizontal line, the hatching pods are the vertical lines and the Disrupters are the crosses. The upper part of the screen is the close-up of the action.
You rescue spacemen by touching them with your ship. You destroy hatching pods, and the spider warriors that hatch, by flying to the pods then shooting the warriors.
You can also shoot generators, patrol ships and debris. Shooting the generator will keep the Disrupter from moving about the city for a little bit but the debris never stops while you are within, so don't hang out in the Disrupter.
If you destroy five warriors at one hatching pod or your ship is destroyed when it returns, you will have a shield for a short time. There will be two beeps to warn you of the shield leaving.
The scoring is as follows:
10 points = Debris
25 points = Patrol Ship
70 points = Rescued Spaceman
100 points = Disrupter Generator
You get 100 points for killing the first warrior at a pod, 200 for the second, 300 for the third and so on.
You lose 1,000 points if you shoot a spaceman, but Flash Gordon would never do that, right?
Every time you conquer a city, you get an extra man.
External links
Ad blocker interference detected!
Wikia is a free-to-use site that makes money from advertising. We have a modified experience for viewers using ad blockers

Wikia is not accessible if you've made further modifications. Remove the custom ad blocker rule(s) and the page will load as expected.