Overview
A beautiful woman from Mongo is seducing young men and stealing their life force. Flash, Dale, Zarkov and Baylin have to find her before she takes another victim; but first, Dale and Joe have to deal with their relationship issues. Also: Zarkov goes house-hunting, Flash goes to lockup, and Baylin eats a banana.
Cast
Regulars
Guest starring
Featuring
Gallery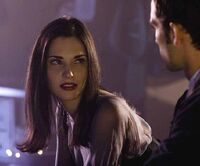 Ad blocker interference detected!
Wikia is a free-to-use site that makes money from advertising. We have a modified experience for viewers using ad blockers

Wikia is not accessible if you've made further modifications. Remove the custom ad blocker rule(s) and the page will load as expected.