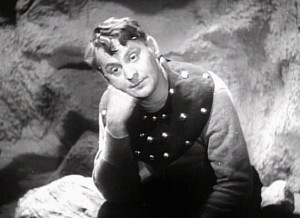 Donald Kerr (1891-1977) was a character actor who played Happy Hapgood in the 1940 movie serial, Flash Gordon's Trip to Mars.
Kerr appeared in more than four hundred serials, films, and TV shows between the 1930s and the 1960s, following several years in Broadway revues, including The Passing Show of 1917 and The Greenwich Village Follies of 1921. Though most of his work was uncredited, he worked steadily, often as drunks, though his main specialty was the nosy reporter in mystery or horror films, of which Happy Hapgood remains his pinnacle. Other credits in that mold include the Ellery Queen entry The Spanish Cape Mystery (1935, as Hendricks), the 1937 Dick Tracy serial, and more high-profile features such as Angels with Dirty Faces and Mr. Smith Goes to Washington (as one of the reporters slugged by Jimmy Stewart).
As the 1930s wore on, he added a slew of taxi drivers to his resume, but Kerr returned to his specialty and actual screen credit with Bela Lugosi's The Devil Bat (1940), sixth billed as boastful photographer "One-Shot" McGuire. After several years of freelancing, Kerr began to show up regularly at Universal Studios (which had produced the Flash Gordon serials years earlier), usually in the Abbott and Costello films, such as Here Come the Co-Eds and The Naughty Nineties (both 1945), but also Hitchcock's Notorious (again as a reporter). Through the 1950s, he continued to appear as a minor foil opposite Abbott and Costello, not only in films but in several episodes of their TV series, as well as small parts in Universal's Ma and Pa Kettle and Francis movies. On TV, he appeared on The Thin Man, The George Burns and Gracie Allen Show and Petticoat Junction. His final film credit was 1964's Dear Heart, again as an uncredited drunk.