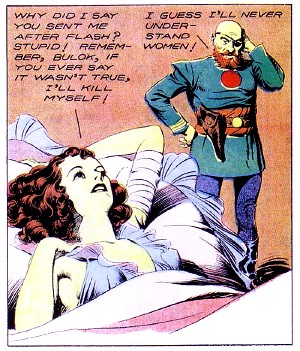 Count Bulok is a rebel leader who struggles against Ming the Merciless. After Flash Gordon is executed by Ming, and then brought back to life by Doctor Bono, he makes contact with Bulok's group. The group storms the Mingo City prison, releasing Dale Arden and Bulok's sister Sonja. ("The Outlaws of Mongo")
Ad blocker interference detected!
Wikia is a free-to-use site that makes money from advertising. We have a modified experience for viewers using ad blockers

Wikia is not accessible if you've made further modifications. Remove the custom ad blocker rule(s) and the page will load as expected.