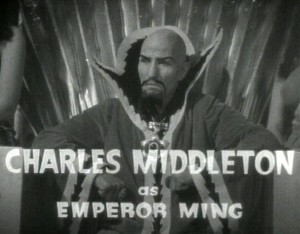 Charles Middleton (1874-1949) played Ming the Merciless in the three movie serials: Flash Gordon, Flash Gordon's Trip to Mars, and Flash Gordon Conquers the Universe.
Middleton began his long career in stage musicals before moving to Hollywood, where he had roles in almost two hundred films and serials. He appeared as a scowling antagonist in four Laurel and Hardy films—the shorts Beau Hunks (1931, as a Foreign Legion commandant) and The Fixer-Uppers (1935, an insanely jealous French husband), and the features Pack Up Your Troubles (1932, an enraged Welfare Association official) and The Flying Deuces (1939, again as an angry Foreign Legion commandant). Middleton also played the prosecutor in the 1933 Marx Brothers film, Duck Soup.
His serials work includes Dick Tracy Returns (1938, as gang head Pa Stark) and Batman (1943). He also frequently appeared as a suspect in mystery films, such as Charlie Chan's Murder Cruise (1940). On rare occasions, he stepped outside of his villainous mold, usually in historical films: he played a doctor in Jesse James (1939), and in 1940, played contrasting roles in Abe Lincoln in Illinois (as Tom Lincoln, Abraham Lincoln's father) and Virginia City (as Jefferson Davis, president of the Confederacy).
Jean Rogers, who played Dale Arden in the first two Flash Gordon serials, remembers that Middleton enjoyed playing Ming: "When he was in his cloak, and made up like Ming, he strutted around like Ming -- he really did strut! He was a very nice guy, but he had to stay in character. The minute he put on his street clothes, he was a different person... it was really quite amusing!"
Sources
Roy Kinnard, Science Fiction Serials. McFarland & Company, Inc., Publishers, 1998.