Beatrice Roberts played Queen Azura in the 1938 movie serial, Flash Gordon's Trip to Mars.
A former Miss America contestant (in 1924 and 1925, representing Manhattan and Greater New York respectively), Azura was briefly married to cartoonist Robert L. Ripley (of Ripley's Believe It or Not!), and later had an affair with MGM mogul Louis B. Mayer.
The bulk of her acting career was spent as a contract player at Universal Studios, beginning with Flash Gordon's Trip To Mars, with Azura as her most notable role; with few exceptions, she appeared in uncredited bit parts, often as pretty nurses, maids, or secretaries, in serials and movies through the 1940s, including Gang Busters (1942), Frankenstein Meets the Wolf Man (1943), and The Senator Was Indiscreet (1947).
Gallery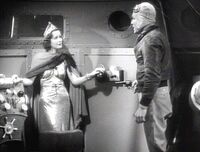 Ad blocker interference detected!
Wikia is a free-to-use site that makes money from advertising. We have a modified experience for viewers using ad blockers

Wikia is not accessible if you've made further modifications. Remove the custom ad blocker rule(s) and the page will load as expected.