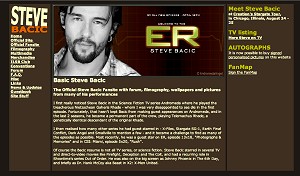 Basic Steve Bacic is the official website for Steve Bacic, who plays Prince Barin in Template:Scifi.
The site was founded in 2004 as a fansite. Bacic had an official site at stevebacic.net, but he was impressed with "Basic Steve Bacic" and decided to merge the two sites.
The site is kept up to date with the latest news on Bacic's career, and personal appearances.
Link
Ad blocker interference detected!
Wikia is a free-to-use site that makes money from advertising. We have a modified experience for viewers using ad blockers

Wikia is not accessible if you've made further modifications. Remove the custom ad blocker rule(s) and the page will load as expected.