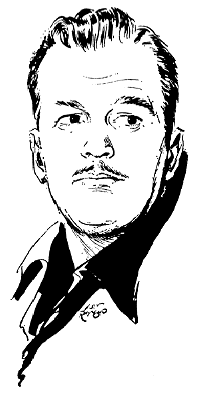 Alex Raymond (1909-1956) created the Flash Gordon comic strip, and drew the Sunday strip from 1934 to 1943 at which time he left to join up and fight for the USA in World War 2.
Raymond's other strips include Secret Agent X-9, Rip Kirby, Jungle Jim, Tim Tyler's Luck, and Tillie the Toiler. His realistic style and skillful use of "feathering" (a shading technique in which a soft series of parallel lines helps to suggest the contour of an object) has continued to be an inspiration for generations of cartoonists.
Alex Raymond received a Reuben Award from the National Cartoonists Society in 1949 for his work on Rip Kirby.
Raymond was killed in an automobile accident in Westport, Connecticut, aged 46, and is buried in St. John's Roman Catholic Cemetery in Darien, Connecticut.