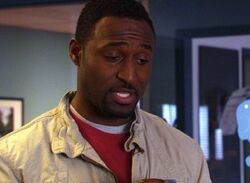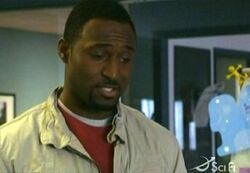 Adrian Holmes plays Earl, the cameraman who works with Dale and Joely in Template:First.
Holmes has appeared in a number of science-fiction series, including Highlander, The Outer Limits, The Twilight Zone, The 4400, Smallville, Stargate SG-1, and Painkiller Jane.
Filmography
Twist in the Wind (1991)
Neon Rider (1991)
Highlander: The Series (1992-1993)
The Sea Witch (1993)
Highlander: Run for Your Life (1993)
The Only Way Out (1993)
Fire in the Heart (1994)
M.A.N.T.I.S. (1994)
Night Man (1999)
Brotherhood of Murder (1999)
The Outer Limits (1996-2000)
Stargate SG-1 (2002-2006)
Def Jam: Fight for NY (2004)
Da Vinci's City Hall (2006)
Godiva's (2005-2006)
The Evidence (2006)
The Hard Corps (2006)
Like Mike 2: Streetball (2006)
Black Lagoon (2006)
External links
Ad blocker interference detected!
Wikia is a free-to-use site that makes money from advertising. We have a modified experience for viewers using ad blockers

Wikia is not accessible if you've made further modifications. Remove the custom ad blocker rule(s) and the page will load as expected.